Babies... everyone loves babies.
One of my dear friends is about to pop. I mean that in the nicest way.
We have a very special bond, her and I, we seem to only be able to produce boys.
I find that a blessing, I mean, have you seen the drama girls bring.
I should know, I am one and I have caused my share of drama.
She is having boy #3, which evens us up. We will both have 3 boys.
Days filled with bugs, boogers and boo boos. Pretty much my life right now.
When I was asked to make her a baby shower cake, because yes, even though it is her third boy a mom still needs diapers and essentials. We needed to have a baby shower. I knew her life would be filled with boy cakes so I decided to be a little girly for her.
I made some pretty flowers, blue is because it's a boy, green and yellow because it's a lemon-lime cake. Makes sense right? Amuse me.
I had made the Key-Lime curd earlier and decided it would be amazing in this cake. I was right! It was so yummy!
So start with that.
Make the Key Lime goodness.
Key Lime Goodness
a.k.a. curd
From Confessions of a Cookbook Queen
8 tbsp (1 US. stick) unsalted butter
softened at room temperature
1 cup sugar
2 large eggs
2 large egg yolks
1/3 cup plus 4 tbsp. Key Lime Juice


Beat butter and sugar in a large bowl using an electric mixer.
Slowly add the eggs and yolks one at a time, mixing well after each addition.
Pour in lime juice and mix again.
Expect the mixture to look curdled, this is normal.

Cook the mixture over medium heat in a medium-size saucepan until it looks smooth (no longer curdled.) Increase the heat slightly and cook, whisking constantly, until the mixture thickens.
Clip a thermometer to the side of the pan and cook until the mixture reaches 170 degrees.
Remove the curd from the heat. Transfer the curd to a bowl and press plastic wrap on the surface of the lime curd to keep a skin from forming. Chill the curd in the refrigerator. The curd will thicken further as it cools.
Covered tightly, it will keep in the refrigerator for a week and in the freezer for 2 months.
I found it in one of my favorite cookbooks, Better Homes and Gardens. You know the one, red and white checked book your mom had growing up. Well at least my mom did.
Triple-Layer Lemon Cake
1 cup buter, softened
4 eggs
2 1/3 cups all-purpose flour
1 1/2 tsp baking powder
1/2 tsp baking soda
1/4 tsp salt
2 cups sugar
2 tsps finely shredded lemon peel (zest)
2 Tbls lemon juice
1 cup buttermilk
Line your pans with parchment paper. I used three 6" pans for this cake.
It made 18 cupcakes as well.
This is how I zest "finely". I fine cheese grater works better than a fancy zester for me.
In a medium bowl sift together the flour, baking powder, soda and salt. Set aside
In a large mixing bowl beat butter with an electrice mixer on medium to hight speed for 30 seconds. Add sugar, lemon zest, and lemon juice, beat until well combined. Add eggs 1 at a time, beating well after each addition.
Now you have all the players, time to put them together.
Alternately add flour mixture and buttermilk, beginning and ending with the flour.
Beat on low speed after each addition just until combined.
Pour into prepared pans.
Bake at 350 degrees for 25-30 minutes or until a toothpick comes out clean.
Cool thoroughly before icing.
I layered the cake with the Key Lime curd and it was a winning combination.
I covered the cake with Lemon Frosting.
Lemon Frosting
1 cup butter, softened
1/2 cup shortening
2 Tbls lemon juice
4 Tbls lemon curd
6 cups powdered sugar
1 Tbls lemon zest
Cream butter, zest and lemon juice together for about 1 minute, scraping the bowl often,
Sift powdered sugar in bowl and beat 2 minutes more, still scraping often.
Add the lemon curd 1 Tbls at a time until you get desired taste.
Beat for about 2 minutes more until light and fluffy.
For the cupcake, make a well in the center.
I know they have gadgets and what not for making wells in cupcakes, but I just use a melon baller. Seems to work ok for me.
Put the key lime in the middle and frost with the lemon frosting.
My hubby thought it was a bit tart, but I love it and so did everyone else. I think it is the perfect tart to sweet balance. If you like key lime, you will really enjoy that tasty middle.
Baking from my heart to your kitchen,
Linking up over at...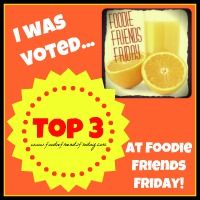 http://www.foodiefriendsfriday.com/